Top Free Themes Of WordPress For Your Blog In 2022
Nothing is free in this world, everything comes with a cost. And if you are looking for anything that doesn't cost you a penny then you may have to compromise on a few things. Having said that, today I am going to recommend you top 5 free WordPress themes which can serve your purpose if you are just starting your website and or don't want to spend money. There are numerous free and paid themes available out there but the few which I have listed are lightweight, easy to navigate, and quickly editable.
Can We Build Websites Without Technical Knowledge?
Moreover being a developer, I get many queries a day about making a blog website. Many people ask me if they need to learn website development to make their blogs. And the simple answer to their question is " no, they need not learn any development." Of course, you don't need to learn website development for blog websites. Why? Let me tell you. Wordpress is a CMS(content management system) and users have the liberty to use block editor or page builders to build their websites and upload the content they love. For that they don't need a sound technical  knowledge of coding or development.
Top Five WordPress Themes in 2022 For Starters
Today, we will talk about WordPress-a CMS- and some of its free themes that can help you build up your blog websites. So follow me along.
1.Neve
So the top-most theme I have found so far is Neve. It is speedy and lightweight, with built-in features to help you make your starter website immediately.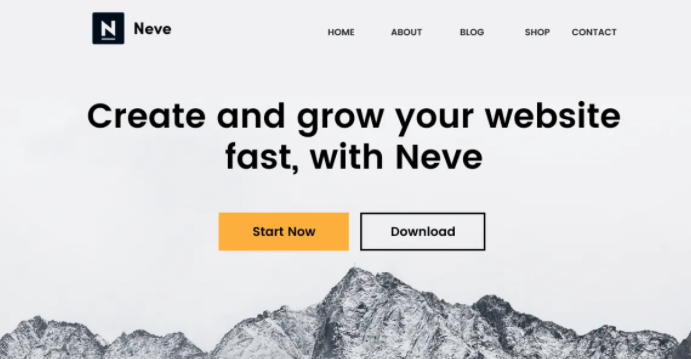 Why do I give it the top position? Here are the main reasons.
It is lightweight and gives you the fastest web speed.
You can easily customize it even if you are a newbie.
The real-time UX/UI lets you customize and see the changes.
You can use it with almost all page builders.
So you don't need any prior experience and knowledge in coding and still can build a website. The easy peasy installation, settings, and customization make it potentially convenient to build a WordPress website. I highly recommend the theme both for web and mobile. The free version is capable enough to give you an eye-catching, fully responsive website. But you can also choose premium packages to get more custom features.
2.Astra
Astra hits the second spot among the top free themes because it is simple, unique, and presents information in a unique and easily understandable way.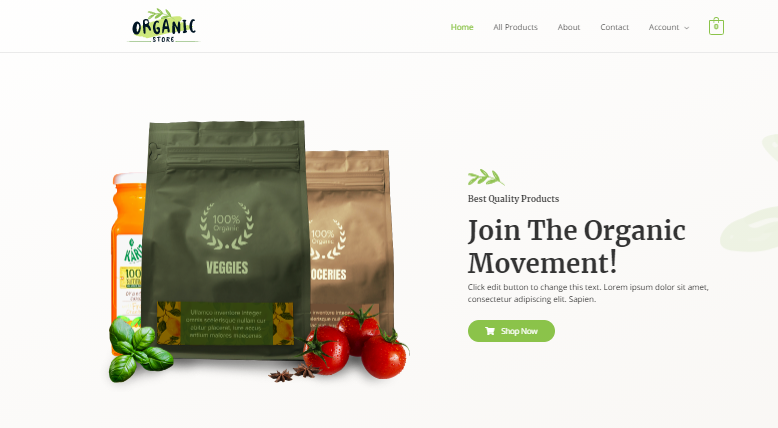 I always recommend this theme for hobby bloggers or for those who want to sell their products online. I have listed down a few attractive features in the following section.
The free version is quite comprehensive for your requirements. But you can still extend your website with premium add ons.
It is mobile-friendly, and you can optimize it for mobile users to increase your customer base.
It has built-in Woo-commerce for your online stores.
It has a large library of built in websites. You can choose any design according to your product or the topic you want to blog on your website.
Many of my clients and friends ask me what can be an ideal theme for their online store and I highly recommend them Astra. It is because you can easily incorporate Woo-commerce in your store within the ideal look you want to give your blog. you can also use the Astra premium version to get cherry on the top.
3.OceanWP
Yes, I know many of you are looking for WordPress themes that do not require coding. But for the coders and techy people I have enlisted WP ocean that features a developer-friendly code base for super easy customization.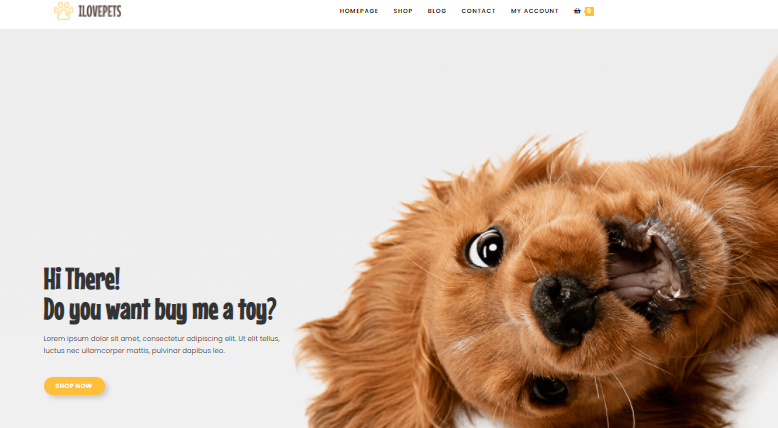 I personally use this theme very often because it is easy, advanced, customizable, clean and lightweight. Here are some of its features that highly attract me.
An exclusive library that has already designed websites. These designs increase the functionality of the theme and you can choose any design among them without the need of any coding.
The theme is highly customizable. You can optimize the design according to your devices either tablet or mobile.
You can use WP ocean with most of the page builders. Elementor and Beaver builder are the top page builders it works with.
As this theme is highly customizable and easy to use, you may want to use it immediately. Moreover, there is not any premium version and you get a full fledge package in the free theme. Some of the extensions are premium but it completely depends whether you want to have them or not. I like this theme the most because it does not cost you anything and you can even start your website within a small budget.
4.Hestia
In this list of top ten free themes, my 4th selection is Hestia. It is extremely flexible and responsive for all kind of websites.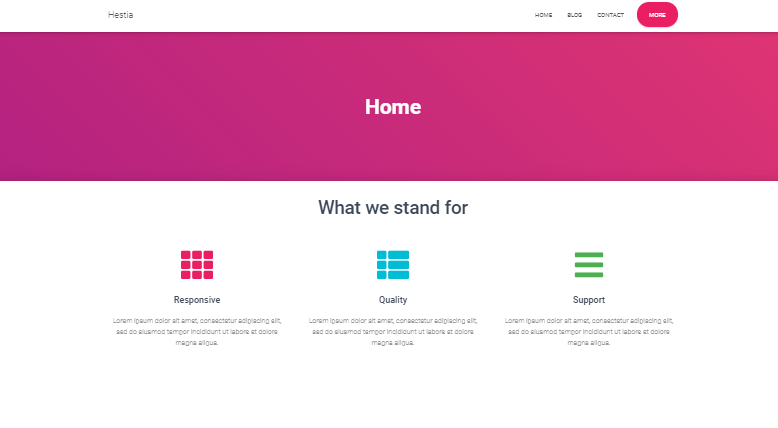 I use it on every other website which makes it super easy for my clients to use it without any further need of coding and website development. You can set up the site with an easy installation procedure and adds on plugins to help you build the service section and testimonials. It has the following top features.
It is highly compatible with Elementor and Gutenburg page builders.
The drag and drop feature helps you design the website from the front end.
It comes with a Woo-commerce ready feature.
So it is an easy option for your website if you are looking to build an eye catching homepage. Simply customize it from the front end and rearrange it with a drag and drop option.
5.Hemingway 
So here comes another theme that can really make your blog stylish and modern. The Hemingway has its own layout of the full-width header with two columns design.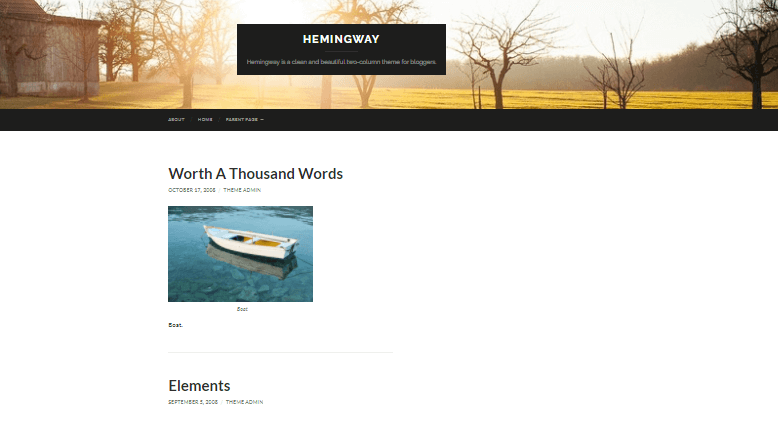 The parallax effects add an extra stylistic look to the website. An exclusive theme for branding as you can upload your own logo on it. I have also listed its features in the following section.
It has a supportive layout for logo, custom widgets, page template and many more features.
The header is full width with two column design and parallax effects.
The retina ready feature makes it look attractive on smartphones.
The design is quick, lightweight and fully responsive and mobile and web.
Why do I recommend this theme? Here's the deal. It has a simple and clean design for any type of site if you are a newbie. But for complex sites, it also has a lot of options with a few complex requirements. It is unique because it does not have any premium version so small budget bloggers get benefit from it.
Conclusion
So today I talked about the top five blogging themes anyone among you can use. I have used all these themes multiple time and people just love it. Simple, easy and responsive themes have a lot of things to learn and explore. The easy customization, mobile-friendly, speedy and lightweight themes make your blogging easy and you can start your dream blog within no time. But for more high-end websites which can be moulded according to your requirements, you may need a developer and get the things done as per your specifications. So whatever you choose, it depends upon your choice, taste and requirements of presenting your data. Let me know in the comment section how my blogpost helped you and what theme you have chosen so far. Happy Blogging!