How to Become a Freelancer?
With a workforce of around 3.5 billion freelancers, 1.2 billion people have adopted freelancing as a profession globally. After the world was hit with the Covid crisis, this number is growing rapidly. Drastic effects of pandemic included unemployment. Since then, a shift can be seen among the working class from standard 9 to 5 hours jobs to starting a freelancing career.
Complete Guide to Freelancing
If you are looking for work online, here is a complete guide that how you can become a freelancer and the hurdles you may face.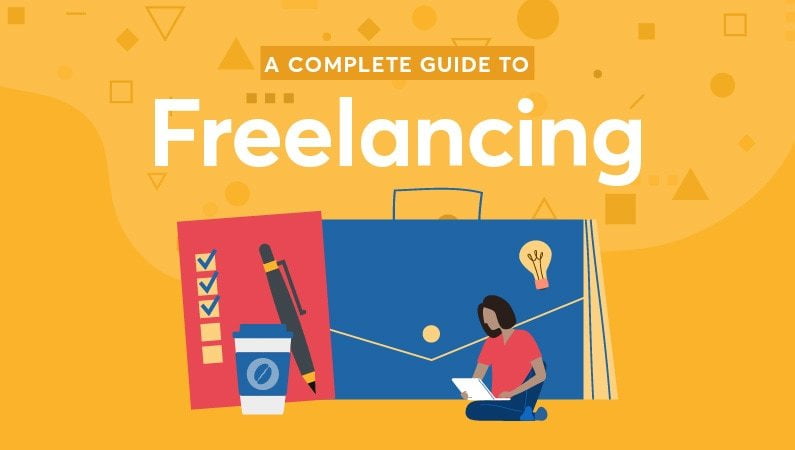 1. Working Alone Comfortably
If you are thinking to continue a freelancing career, the first step is to ask yourself;
"Are you going to work alone comfortably?"
The beginning of this new journey is everything because it means moving out of 9-5 cubical. You will be making yourself comfortable with freelancing, a self-motivated and self-employed world. It requires a lot of patience, hard work, knowledge and consistency.
Don't put all your eggs in one basket.
It is as you have heard about a freelancing platform from a family or a friend and you jumped right into the market. You will be facing a lot of competition if you have plans to pursue it as a career. So, better write down all the steps before getting started with this new journey.
2. Freelancing is for you or not?
The next question is whether freelancing is the right option for you or not? I know you must be thinking about the freedom of having no boss, no stress but it requires you to schedule your time before adopting freelancing as your permanent career path. You can run away from a typical workaholic environment but you cannot ignore deadlines. Remember that
Time is Money
and this act as a motivator in becoming a freelancer. All you have to sell your time/services to a client quoting a good price.
3. Full-Time job or Freelancing
You may be stuck between a full-time job and a freelance career. Well! If you feel trapped in such a dilemma, then do not quit your job at once. First, you have to maintain a good reputation in the freelance world. Grasp some top-rated clients or companies that prefer to outsource the workforce from freelance platforms.
4. Do you think you can organize your time well?
If you are confident enough to organize your time window, then congratulations, you can become a top-rated freelancer. In the freelance world, you have the liberty to utilize your time effectively. So, if you are a punctual kind of person who manages his time well, then freelance work is your kind of job. You can find clients willing to work with you in the long run and only correct tracking of time can save you from missing deadlines. On the other hand, if you are not an organized person, and then it can put your freelance reputation in danger.
5. What are the right platforms to reach out for your job skills?
When you finally reach the point where you think you can pursue a freelancing career path, the next step is to dig for the right platforms. You will find many freelancing platforms through the
Google
search engine. However, LinkedIn claims to connect you with clients globally. You can expand your network and look for a job description that is by your expectation. Besides LinkedIn,
Upwork
,
Fiverr
,
Guru.com
,
Freelance.com
,
Behance
, and
Flexjobs
are some of the top-rated freelance job platforms. These platforms have some protection policies for freelancers and clients to avoid any dispute or fraud. If you are willing to earn a handsome amount of money, get ready to deliver quality work at a low rate in the beginning. In this way, you are going to win permanent and high paying clients. Your chances of becoming a top-rated freelancer increase with time.
6. How to build a professional work profile?
Your profile is everything when you entered the freelance world. Always try to make your profile stand out to attract employers to your profile. The information your potential client will see include education, experience, skills, expertise, certification, employment and description. Add your previous tasks and completed projects to build up your strong profile. Make it precise but significant. You will find many
strategies
online to create a professional profile. You can also search for the top-rated clients in freelance platforms related to your expertise and see what kind of professional profile they have created. Well, that does not mean that you can copy their work profile, skills or experience. This strategy gives you the idea that how you can build your profile as a beginner or as a professional freelancer. Build your profile around their tips and tricks.
7. Build your Portfolio
Your profile is incomplete without a portfolio. First, upload your profile picture, but do not forget to upload your work samples to prove your worth to potential clients. Make sure your portfolio includes your skills and experience to help clients assess you at once and consider you for the job. If you are a struggling freelancer, then it is recommended to offer your services at a low rate in the beginning. Your portfolio must incorporate past quality work samples from clients after their permission to display your remarkable accomplishments. Adding your best of best work can only makes a clear difference when it comes to your projects.
8. Quote your price for the services you can provide
Being a new bee, you can settle for a very low price for your skills. You can either charge your client on an hourly rate or per-project rate that is totally up to you. Once you gain plenty of experience in the freelance field of your choice, now you can raise your stakes and earn top-rated clients for as much as price you want. Your profile age and years of experience in a relevant field matters the most when it comes to quoting a price. You will find plenty of jobs at freelancing portals such as virtual assistants,
bloggers
, voice-overs,
content
creators, graphic designers,
website
developers, translators etc. If you have plans to leave your full-time job and make freelancing your permanent livelihood, then the price quote must cover your monthly salary. If this is the case and you are an entry-level freelancer, then it's a long way to go. In the beginning, you have to quote the price a little low to earn jobs.
9. Find relevant work
Then comes applying for the right job. Do not apply for any job until you are confident enough to complete that project and win your client's trust. Always write your job proposal precisely covering all your skills and experience. Your cover letter must include reasons that make you a good fit for this job. Your freelance journey is all about building your market reputation and it depends upon your client feedback.
10. How to grab long-term clients?
You can win long-term clients in a freelancing career if you create a promising relationship with your employer. This can only be possible if you provide every client with quality work, meet all deadlines, follow instructions, and make required revisions. Always make yourself available to clients outside the prescribed hours as well to maintain a well-responsive relationship with clients. Stay connected with them in your inbox to answer any question or solve any query. Keep in mind that professional communication with your client is a key to success in this growing freelance
business
. Before you, start working with your employer make sure that you both get to agree on the terms & conditions of the project or milestone, work edits, payment policies, and deadlines.
11. Earn Reviews
You can earn more and more reviews by keeping up with your good work. Moreover, if you want to earn positive feedback and five-star reviews, discipline and professional knowledge in your concerned field are all you need. Stay consistent to maintain your reputation in the freelancing world. If you have great communication skills, practice selling them to the right employer. Once you start earning, you can withdraw your payment through PayPal or Pioneer into your local bank.
Wind-up
Even after you, get enrolled yourself in any of the freelance platforms; you may feel difficulty in winning clients in certain skillset. This requires a lot of patience to put up with the ups and downs of a freelance career path. Try to find those freelance skills with less competition to increase the chances of your success. The higher the number of clients you own at the freelance platform, the higher will be your chances to become a top-rated freelancer. Make your employer satisfaction your primary objective and money a secondary one to become a rising talent. If you still have in your mind that whether freelancing is the right career for you to pursue in the future? then you should do some research before dipping your hands into it completely.